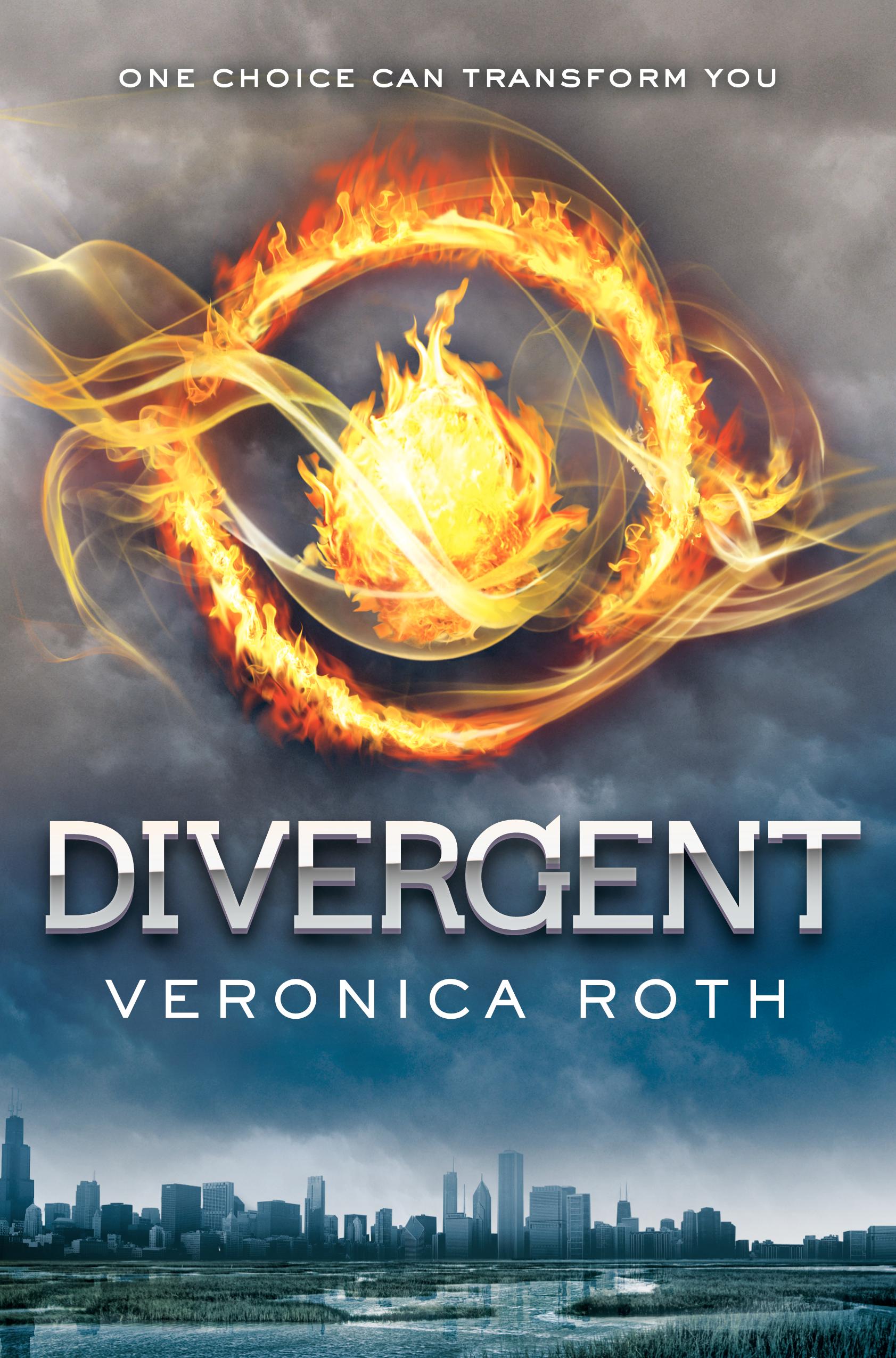 via divergent.wikia.com
Plot
In Beatrice Prior's dystopian Chicago world, society is divided into five factions, each dedicated to the cultivation of a particular virtue
Candor -> the honest

Abnegation -> the selfless
Dauntless -> the brave
Amity -> the peaceful
Erudite -> the intelligent
On an appointed day of every year, all sixteen-year-olds must select the faction to which they will devote the rest of their lives. For Beatrice, the decision is between staying with her family and being who she really is--she can't have both. So she makes a choice that surprises everyone, including herself.

During the highly competitive initiation that follows, Beatrice renames herself Tris and struggles alongside her fellow initiates to live out the choice they have made. Together they must undergo extreme physical tests of endurance and intense psychological simulations, some with devastating consequences. As initiation transforms them all, Tris must determine who her friends really are--and where, exactly, a romance with a sometimes fascinating, sometimes exasperating boy fits into the life she's chosen. But Tris also has a secret, one she's kept hidden from everyone because she's been warned it can mean death. And as she discovers unrest and growing conflict that threaten to unravel her seemingly perfect society, Tris also learns that her secret might help her save the ones she loves or it might destroy her.
(via goodreads.com)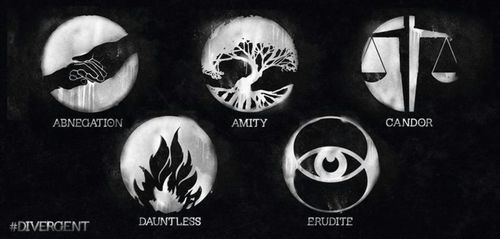 Fractions
Dauntless
Dauntless was a faction formed by those who blamed cowardice for society's problems. The only answer is to face your fears through bravery. The people of Dauntless are in charge of the city's security, protecting its inhabitants from threats within and without as the city's peacekeepers. Dauntless always dress in black and their element is the fire.
Abnegation
Abnegation was formed by those who blamed selfishness for human nature's errors. They are the political leadership of the town. Abnegation clothes are also typically very baggy. Gray robes, pants, and T-shirts are common dress. Their element is the stone.
Erudite
Erudite was formed by those who blamed human ignorance for the faults of society. Erudite values the virtue of intelligence and wisdom over any other. Erudite are expected to delegate themselves in the library reading books, or, most commonly, reading something from the computer. The faction produces most of the city's librarians, doctors, scientists, and teachers. They always wear something blue. The element of the Erudite is the water.
Candor
The Candor value honesty and cannot tell a lie. They say whatever is the truth, even if it gets them into trouble. The Candor believe that truth is black and white, so that is what they wear. Their element is the glas.
Amity
Amity is a faction that dislikes war, discord, and strife of any kind. They blame aggression as the root of all evil. Their main contribution to society is growing crops, and they work closely with Erudite to develop new methods of farming. The members wear comfortable red or yellow clothing. Their element is the earth.
(via wikipedia - summarised)
My opinion
I wanted to read this book for quite a while now but I never did it. When I saw it in our library I had to read it and I'm so thankful that I did it. I really like this book. I read 400 pages in one day when I was sick and I just couldn't stop. I also really enjoyed The Hunger Games and everybody was saying that Divergent is similar. It is but not that much. The movie is good too but there are some things that are different if you compare it to the book. At the end I need to say that I really liked the book and movie, I totally ship Tris and Four and I can't wait to read Insurgent.
Movie
Cast
Shailene Woodley: Beatrice "Tris" Prior
Theo James: Tobias "Four" Eaton
Kate Winslet: Jeanine Matthews
Maggie Q: Tori
Ansel Elgort: Caleb Prior
german
Inhalt
Fünf Fraktionen, fünf völlig verschiedene Lebensformen sind es, zwischen denen Beatrice, wie alle Sechzehnjährigen ihrer Welt, wählen muss.
Candor -> Die Freimütigen
Altruan -> Die Selbstlosen
Ferox -> Die Furchtlosen
Amite -> Die Friedfertigen
Ken -> Die Gelehrten
Ihre Entscheidung wird ihr gesamtes zünftiges Leben bestimmen, denn die Fraktion, der sie sich anschließt, gilt fortan als ihre Familie.
Doch der Eignungstest, der über Beatrices innere Bestimmung Auskunft geben soll, zeigt kein eindeutiges Ergebnis. Sie ist eine Unbestimmte, sie trägt mehrere widerstreitende Begabungen in sich. Damit gilt sie als Gefahr für die Gemeinschaft.
Beatrice entscheidet sich, ihre bisherige Fraktion, die Altruan, zu verlassen, und sich den wagemutigen Ferox anzuschließen. Dort aber gerät sie ins Zentrum eines Konflikts, der nicht nur ihr Leben, sondern auch das all derer, die sie liebt, bedroht.
(via die-bestimmung.de)
Fraktionen
Ferox
Die Ferox sind die Furchtlosen, weil sie die Feigheit für das Übel auf der Welt verantwortlich machen. Sie sind die Ordnungshüter der Stadt und bewachen den Zaun, der Chicago umgibt und sorgen für die Sicherheit. Die wichtigsten Werte der Ferox sind Mut, Tapferkeit und Stolz. Diese sind ihnen wichtiger als Vernunft oder Verstand. Die Ferox haben überall Tattoos und Piercings und ihre Kleidung ist schwarz. Ihr Element ist das Feuer.
Altruan

Sie sehen sich als die Selbstlosen, da sie den Egoismus für den letzten großen Krieg verantwortlich machen. Sie haben die politische Führung über Chicago, da sie als absolut unbestechlich gelten. Sie tragen nur graue Kleider. Ihr Element ist der Stein.
Ken

Die Ken machen die Dummheit bzw. Unwissenheit für den Krieg verantwortlich und sind deshalb die Fraktion der Wissenden. Sie widmen sich der Wissenschaft, haben exzellente Computerkenntnisse und hervorragende Programmierkünste und sind neugierig. Die Ken kleiden sich immer mit einem blauen Kleidungsstück. Ihr Element ist das Wasser.
Candor

Die Fraktion "Candor" sind die Freimütigen und machen die Unehrlichkeit für den Krieg verantwortlich. Sie beschäftigen sich mit dem Recht und juristischen Fragen, da sie glauben, dass nur die Wahrheit und Ehrlichkeit die Gesellschaft zum Erfolg führen kann. Die Kleidung bei den Candor ist bei Frauen eine weiße Weste und schwarze Röcke oder Hosen und bei den Männern weiße Hemden und schwarze Hosen oder Anzüge mit schwarzer Krawatte. Ihr Element ist das Glas.
Amite

Sie sind die Friedfertigen und machen die Aggression für das Unheil der Welt verantwortlich. Die Amite leben außerhalb Chicagos auf dem Land und widmen sich dem Anbau von Grundnahrungsmitteln. Außerdem arbeiten sie als Berater und Verwalter. Ihre Kleidung ist leger und in gelb oder rot gehalten. Ihr Element ist die Erde. (via wikipedia - gekürzt)
Meine Meinung

Ich wollte dieses Buch schon sehr lange lesen, aber ich habe es nie geschafft. Als ich es in unserer Bücherei sah, habe ich mich endlich überwunden und ich bin dankbar, dass ich es endlich gelesen habe. Ich habe 400 Seiten in einem Tag gelesen, als ich krank war, einfach weil ich nicht aufhören konnte. Mir hat auch The Hunger Games sehr gefallen und viele sagen Divergent ist ähnlich. Ist es, aber nicht so stark. Der Film hat mir auch gut gefallen, aber einige Ereignisse sind in einer anderen Reihenfolge als im Buch und das hat mich am Anfang irritiert. Am Ende kann ich aber sagen, dass mir das Buch und der Film sehr gut gefallen hat, Tirs und Four sind das perfekte Paar und ich kann es nicht erwarten bis ich den nächsten Teil in meine Hände bekomme.