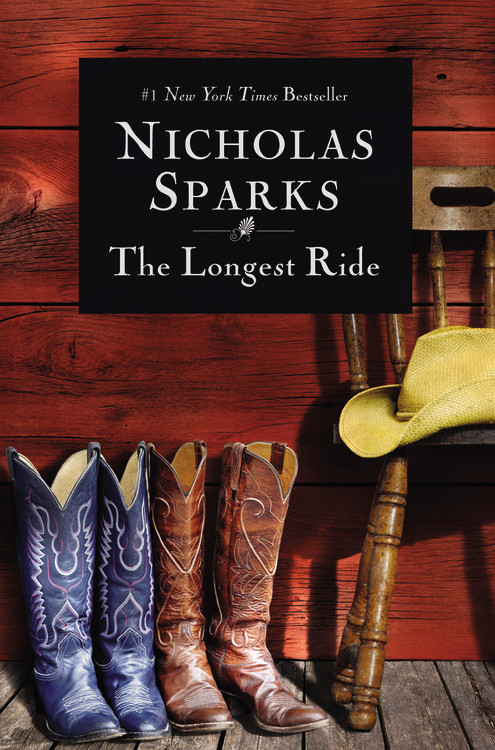 via nicholassparks.com
"He believed that most people, when given the choice, would do what was right, even when it was hard, and he believed that good almost always triumphed over evil."
- Nicholas Sparks, The Longest Ride
Synopsis
Ira Levinson is in trouble. At ninety-one years old, in poor health and alone in the world, he finds himself stranded on an isolated embankment after a car crash. Suffering multiple injuries, he struggles to retain consciousness until a blurry image materializes and comes into focus beside him: his beloved wife Ruth, who passed away nine years ago. Urging him to hang on, she forces him to remain alert by recounting the stories of their lifetime together – how they met, the precious paintings they collected together, the dark days of WWII and its effect on them and their families. Ira knows that Ruth can't possibly be in the car with him, but he clings to her words and his memories, reliving the sorrows and everyday joys that defined their marriage.
A few miles away, at a local bull-riding event, a Wake Forest College senior's life is about to change. Recovering from a recent break-up, Sophia Danko meets a young cowboy named Luke, who bears little resemblance to the privileged frat boys she has encountered at school. Through Luke, Sophia is introduced to a world in which the stakes of survival and success, ruin and reward -- even life and death – loom large in everyday life. As she and Luke fall in love, Sophia finds herself imagining a future far removed from her plans -- a future that Luke has the power to rewrite . . . if the secret he's keeping doesn't destroy it first.
Ira and Ruth. Sophia and Luke. Two couples who have little in common, and who are separated by years and experience. Yet their lives will converge with unexpected poignancy, reminding us all that even the most difficult decisions can yield extraordinary journeys: beyond despair, beyond death, to the farthest reaches of the human heart. (via nicholassparks.com)
Klappentext
Nach einem schweren Unfall auf einer einsamen Straße schwebt der 91-jährige Ira zwischen Leben und Tod. In seinen Halluzinationen erscheint ihm seine verstorbene Frau Ruth, und gemeinsam erinnern sie sich an die großen Stationen in ihrem dramatischen, aber auch sehr glücklichen Eheleben. Parallel wird die romantische Liebesgeschichte eines jungen Paares erzählt: Eher gegen ihren Willen hat sich die Studentin Sophia in den sympathischen Rodeoreiter Luke verliebt. Denn wie soll eine gemeinsame Zukunft zwischen einer weltoffenen Kunsthistorikerin und einem provinziellen Rancher funktionieren, der auf wilden Bullen reitend Kopf und Kragen riskiert? Doch dann treffen die Liebenden der unterschiedlichen Generationen an einem schicksalhaften Tag aufeinander, und plötzlich gibt es neue Hoffnung... (via amazon.de)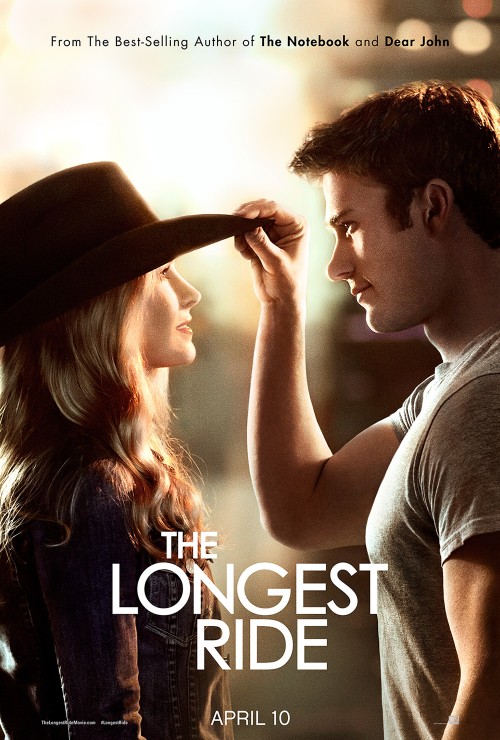 via nicholassparks.com
About The Film
Based on the bestselling novel by master storyteller Nicholas Sparks, THE LONGEST RIDE centers on the star-crossed love affair between Luke, a former champion bull rider looking to make a comeback, and Sophia, a college student who is about to embark upon her dream job in New York City's art world. As conflicting paths and ideals test their relationship, Sophia and Luke make an unexpected connection with Ira, whose memories of his own decades-long romance with his beloved wife deeply inspire the young couple. Spanning generations and two intertwining love stories, THE LONGEST RIDE explores the challenges and infinite rewards of enduring love.
In theaters on April 10, 2015.
(via nicholassparks.com)
My opinion
I have read a lot of Nicholas Sparks' books and I have loved everyone. First of all I need to say that I really like the cover of the German edition. I like it even more than the English one. But know let's talk about the story. I really liked the book. I have to admit that I liked the part of Luke and Sophia much more than the story about Ira and Ruth. It's a sad story I know but somehow I liked the other one more. What I liked about the relationship of Luke and Sophia is that the are from two different worlds but the always get back together. The have to face some difficult events in their relationship but they can't let each other go. Nicholas Sparks knows how to write a love story but this one is not my favourite one. The ending is kind of obvious and somehow it's like the other
stories
Sparks has written but it's still a really good book.
I did not know that a film is
coming out in April
. I have watched the trailer for the first time and I liked it but there are some things that are really different if you compare it with the book. First of all I'm really excited that the producers are the ones from
The Fault In Our Stars
and you know how much I loved that book and film. Luke and Sophia are meeting each other in a different way, Ira's accident is different in the book, some days after Sophia and Luke rescued Ira he dies but in the trailer it looks like he lives much longer and Luke's accident with Big Ugly Critter happens before he has met Sophia but in the trailer it's after he has met her. I don't know what I should think about this film. Maybe it's good but after reading the book I hoped that the story wasn't changing that much.
All in all I loved the book and I can't wait to see the film.
Meine Meinung
Ich habe eine Menge von Nicholas Sparks Büchern gelesen und ich liebe alle. Zunächst einmal muss ich sagen, dass ich das Cover der deutschen Ausgabe sehr mag. Aber lasst uns jetzt über die Geschichte sprechen. Ich mochte das Buch. Ich muss zugeben, dass mir der Teil von Luke und Sophia viel mehr gefallen hat, als die Geschichte von Ira und Ruth. Es ist eine traurige Geschichte, aber irgendwie gefiel mir die Andere mehr. Was mir bei der Beziehung von Luke und Sophia gefällt ist, dass sie aus zwei verschiedenen Welten stammen, sie aber immer wieder zusammen kommen. Sie müssen einige schwierige Prüfungen bestehen, lassen sich dadurch aber nicht aus der Bahn werfen. Nicholas Sparks weiß, wie man eine Liebesgeschichte erzählt, diese ist aber nicht mein Favorit. Das Ende ist ziemlich offensichtlich und irgendwie ist sie wie die anderen Geschichten, die Sparks geschrieben hat, aber es ist immer noch ein wirklich gutes Buch.
Was ich nicht wusste, dass
im April
ein Film über die Geschichte in die Kinos kommt. Ich habe den Trailer zum ersten Mal gesehen und ich mochte ihn, aber es gibt einige Dinge, die wirklich anders sind, wenn man die Geschichte mit dem Buch vergleicht. Zunächst einmal, ich bin wirklich glücklich, dass die Produzenten die von das
Schicksal Ist Ein Mieser Verräter
sind und ihr wisst, wie sehr ich dieses Buch und den Film liebe. Zum einen treffen Luke und Sophia sich auf eine andere Weise, im Buch ist Iras Unfall anders, einige Tage nachdem Sophia und Luke Ira gerettet haben, stirbt er, aber im Trailer sieht es aus als ob er noch viel länger lebt und Lukes Unfall mit Big Ugly Critter passiert bevor er auf Sophia trifft, doch im Trailer passiert es, nachdem er sie getroffen hat. Ich weiß nicht, was ich über diesen Film denken soll. Vielleicht ist er gut, aber nachdem ich das Buch gelesen habe, habe ich gehofft, dass sich die Geschichte nicht so stark verändert. Alles in allem mochte ich das Buch und ich kann es kaum erwarten den Film zu sehen.